The new world of work requires new skills — and a new approach to employee development. In this post, find out how to upskill your people and equip them for success in 2023.
Like it or not, the modern world of work looks drastically different from how it did just a few years ago. Both employers and employees alike have found themselves in uncharted territory, and we've seen major skills gaps emerging.
To thrive in the new work era, it's essential to close these gaps. Employee development and upskilling initiatives must take priority — and they must be adapted and modernized to meet the needs of the modern workplace.
It's a challenge to say the least, but the return on investment is high — and we've put together this guide to help you get started. We'll start by exploring the main factors that are driving the latest trends in employee development. Then we'll share our five key strategies for ensuring that your corporate training initiatives are built for success.
Upskilling with digital learning!
In our booklet "Expert Advice on Digital Learning in Companies" we have collected years-long experience in successful digitalization and effective team learning. Download it now for free!

Why employee development is more important than ever in 2023 and beyond
The world of work has changed dramatically in recent years. Not only has the pandemic affected where and how we work, it has also accelerated digital transformation at a rapid rate. To navigate all the different facets of this "new normal," employees are required to master and utilize new kinds of skills. At the same time, employers must increase and modernize their employee development and training efforts.
However, employee development isn't just a matter of boosting people's capability and productivity on the job. It also plays a critical role in employee engagement and retention. In the midst of the Great Resignation, which has seen record numbers of workers leaving their jobs, prioritizing employee development — and getting it right — can help you to hold on to your best talent.
One LinkedIn study found that 94% of employees are more likely to stay with an employer who invests in their learning and development. This was especially pertinent for Gen Z and Millennials, a quarter of whom cited learning as the most important factor in their workplace happiness. In a similar vein, 77% of workers are eager and willing to learn new skills or retrain entirely.
Ultimately, training, upskilling, and reskilling isn't just good for business. It's what employees want, and it's becoming an increasingly important factor in winning the war for talent.
💡 How to start with online learning?
Watch our webinar for hands-on tips to overcome problems and help your team to succeed:
Employee development plan for 2023: Essential tips to upskill your team
So how can you make sure your employee development initiatives are up to par in 2023 and beyond? Here are five tips to guide you.
Tip 1) Leverage e-learning to mirror the new normal of working from anywhere (WFA)
The two biggest changes in the world of work have been the shift towards remote work (or WFA — working from anywhere) and a rapid acceleration in our adoption of, and reliance on, technology.
Just as employees are demanding greater flexibility in when and how they work, expectations around learning and development are also shifting. If we can work from anywhere, why can't we learn from anywhere, too?
And, thanks to the rise of e-learning and digital training experiences, we can. The global corporate e-learning market is set to hit an annual growth rate of 15% by 2026, with over 40% of Fortune 500 companies already "extensively" using e-learning to train their employees.
There's really nothing getting in the way of flexible, high-quality training that works around any schedule. If you want to create effective and appealing employee development plans that meet the modern learner's needs, leveraging e-learning is a must.
Tip 2) Offer bespoke employee development plans that are tailored to the individual
With more and more workers taking an interest in training and upskilling, professional development has become a personal matter, too. As such, employers should increasingly strive to create bespoke employee development plans that are tailored to the individual.
According to the Brandon Hall Group's State of Learning Practices Study, 93% of companies strongly agree that personalized learning helps to improve performance at both an individual level and for the organization as a whole.
Once again, leveraging technology is critical here. The rise of corporate e-learning brings with it much greater flexibility in terms of the content and topics that employees have access to, allowing for a mix-and-match approach to cater to different needs.
It's no longer enough to take a one-size-fits-all approach to employee development. Work one-on-one with your team members to identify their goals and skills gaps, and create bespoke employee learning paths that benefit both the company and the individual.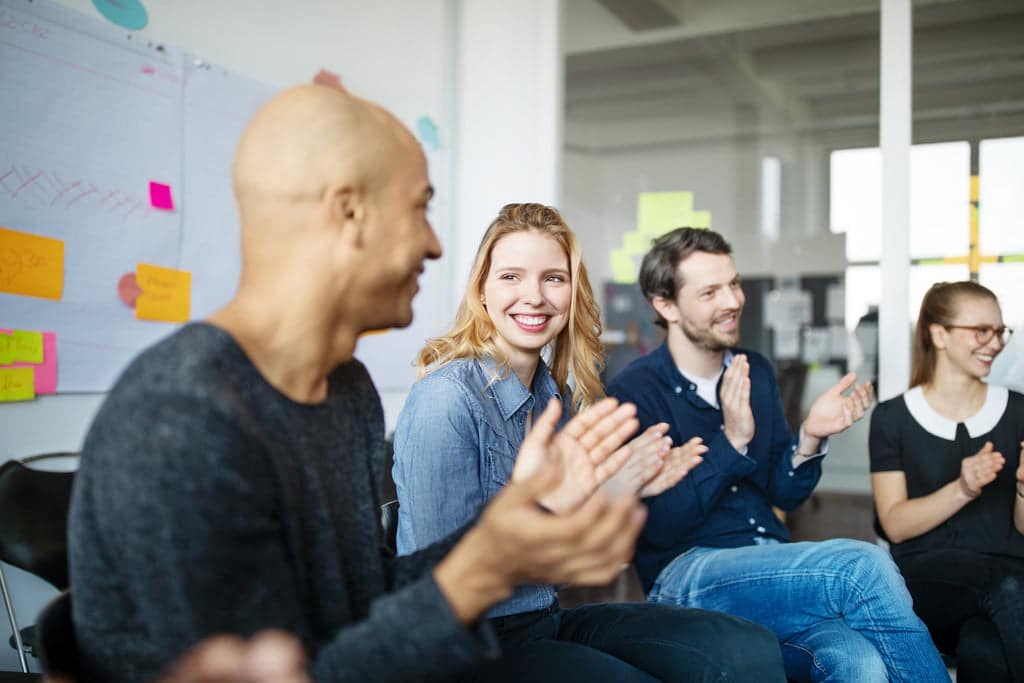 Tip 3) Prioritize tackling the digital skills gap
In order to thrive in a digital-first world, employees must keep their digital skills up to date. Yet three in four workers feel under-equipped when it comes to digital skills, with 39% of respondents in a separate study saying they're concerned about not receiving sufficient training in digital and technology skills.
The cost of the digital skills gap is huge, with experts predicting that it will cost G20 countries a whopping $11.5 trillion in GDP growth over the next decade. To address this gap, companies must strive to continuously train and upskill their employees in the most relevant digital skills, ensuring they're able to keep up with technology as it evolves.
The benefits go beyond simply equipping your employees to do their jobs, however. 70% of employees who receive digital skills training report being more engaged at work, while 60% say they are more likely to stay in their jobs. That's a big win for the company, and for the global skills economy at large.
Tip 4) Soft skills are growing in importance — make sure you train for those, too
It's impossible to navigate the new world of work without fundamental soft skills. By 2030, it's predicted that soft-skill intensive occupations will account for two-thirds of all jobs (Deloitte Access Economics). At the same time, soft skills make up ten of the sixteen most important competencies for the 21st century, as reported by the World Economic Forum.
As the importance of soft skills grows, employers will need to double down on their efforts to close the ever-widening soft skills gap — which is feared to be costing the global economy billions (around $160 billion in the U.S. alone).
If you want to equip your workers with the most important skills of the future, don't neglect to include soft skills in your employee development plans. Pay particular attention to skills like critical thinking, creativity, communication, collaboration, and social and cultural awareness. If you do, you can anticipate an ROI of up to 250%. Not bad!
Tip 5) Make sure your employee development initiatives are measurable
We've seen just how important employee development is, and the value it delivers for both the individual and the business. As you implement new training initiatives, it's essential to make sure that you're tracking and measuring this value.
Identify relevant success metrics and desired outcomes for all employee development programs, and establish a process for monitoring and reviewing progress regularly. Over time, you'll build up a solid body of data (ideally both qualitative and quantitative) which will enable you to see what's working and what needs improving.
These insights will prove invaluable when it comes to ensuring the success and longevity of your employee development programs. And with data to back it up, you'll be able to clearly demonstrate the value of employee training — making sure that it remains a priority within your organization.
Follow these guidelines and you'll ensure that your learning and development initiatives — and, in turn, your employees — are ready to thrive in the ever-evolving world of work.
Start now with digital learning!
In our booklet "Expert Advice on Digital Learning in Companies" we have collected years-long experience in successful digitalization and effective team learning. Download it now for free!