In this article, we will show you five helpful tips on how your managers can motivate their teams to use Babbel and five motivational tips on how companies can help their employees to stick to language learning.
Babbel is a tool your team can easily incorporate into their daily work schedules. Still, you may be asking yourself, how do I get my team to use Babbel for corporate language training regularly? How do I keep them motivated?
Babbel for Business provides a language learning platform and account management, but learning managers can contribute to their team's motivation. Serge Desjardins, from Environment and Climate Change Canada, knows exactly how it's done.
Table of Contents
Want to get started with corporate language learning?
Take your first steps to help you find the right learning strategy for your company by downloading our practical language-learning guide for free.
Why Babbel is great for language learning — from a manager's perspective
When Serge Desjardins — manager at the Meteorological Service of Canada, a division of the government department Environment and Climate Change Canada — came across Babbel for Business, something in his head clicked.
Canada is officially a bilingual country, and especially in public service it's encouraged to reflect this bilingualism. If employees want to progress in their careers, they need to speak both languages. However, large parts of the country are predominantly English-speaking, which makes learning French challenging. That's why Desjardins was looking for a language learning solution that would expose as many employees as possible to the other language and spark interest in becoming bilingual.
He was looking for a flexible language program that caters to the many employees who work in shifts and also enables continuous learning. That's why he was excited when he came across Babbel. With its flexible model and bite-size lessons, his team can learn French or English on their breaks or on their way to and from work. Additionally, the offering is less expensive and less time-consuming than classroom lessons, and Desjardins can keep track of his team's progress with online usage reports.
5 tips to motivate your team to use Babbel — from one manager to another
As someone who had learned English as a second language himself, Desjardins decided to support his learners on their language-learning journey and design a strategy that would help his team form learning habits that would last. He developed some creative and engaging methods to keep his learners engaged and excited about language. Keep on reading to find out!
Tip 1: Write encouraging emails
Desjardins sends out regular personal emails to his team, reminding them to learn, congratulating the front runners, and encouraging those who have fallen behind. In all his communications, he uses a fun "Lord of the Rings" analogy, acting as Sauron, who is watching his learners. With this, he is able to strike the right balance between good humor and stern instruction, which means his team pays attention to his emails, takes their learning path seriously, and has fun while doing so.
Furthermore, his emails are bilingual, giving the learners a chance to practice their new language right away.
Tip 2: Take advantage of usage reports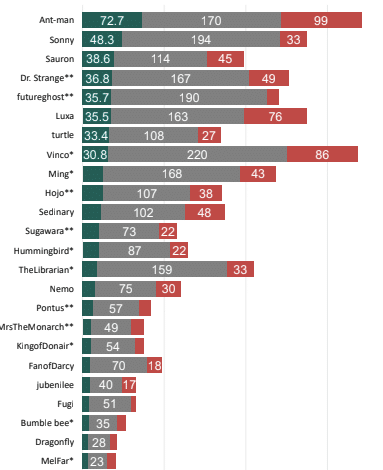 One key reason why Desjardins's team is so motivated to learn a language is because of Desjardins's fun and creative learner overviews. Desjardins uses Babbel's usage reports to display each learner's progress as well as the group as a whole to keep his team on their toes.
Related to the tower of Sauron, he calls this the Race toward Babbel tower. The learners stay anonymous, using pseudonyms, but can still see how well they are doing compared to their team members.
Desjardins says that although it's up to the person to be disciplined, it's the reports that hold them accountable. Adding this fun competitive edge is a great way to gamify the language learning experience. In addition, this sparks team spirit, motivating the learners by bringing them together.
Tip 3: Encourage regular learning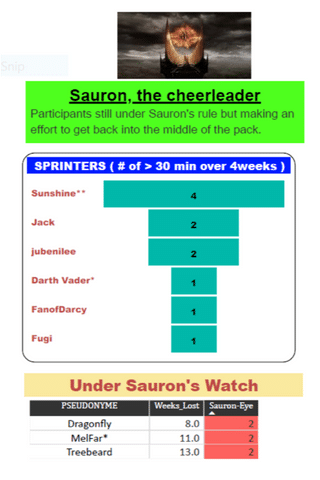 As a veteran language learner, Desjardins understands that in order to become proficient fast, learners must be exposed to their new language regularly. That's why he set a target of a minimum of 30 minutes of learning time for each person per week, which he can also track using Babbel's online usage reports.
He calls this the rule of Sauron. When a team member repeatedly fails to reach their target, they risk losing their Babbel access and it being transferred to another employee.
This might seem harsh, but it definitely keeps them on track and means there is something at stake. In addition, Desjardins encourages employees to set specific times in their week dedicated to learning. This helps establish a routine.
Tip 4: Act as a role model yourself
Desjardins leads by example. While his group is learning French or English, two languages he already speaks fluently, he decided to start learning Spanish. This is invaluable for a learning manager to do.
Employees are far more likely to complete tasks when their managers are completing them as well. They understand that it demonstrates a willingness to learn, which reflects well on them professionally. It also means Desjardins is able to relate to his team and give specific Babbel learning tips from his own experience.
Tip 5: Use Babbel certificates
Babbel offers certificates that learners can download after completing lessons. Desjardins encourages his learners to keep these as proof of progress and to keep track of their individual learning path. Besides, certificates are a great way to see what they've achieved and be proud of their learning success.
Serge Desjardins is a great example of a fun and effective learning motivator. Introducing new habits to your team is never easy, especially when workloads are heavy and capacity is stretched. However, language learning should be seen as a break from the daily workload and used as a space to improve and challenge one's abilities.
Desjardins's tactics have proven to be a success. Employees feel motivated by his use of reports and have made quick progress in their language learning as a result. Desjardins recommended Babbel to other teams across the country who adopted his high-energy approach to language learning.
We understand that not everybody has time to implement these processes, so we recommend you start small — perhaps by rewarding the learner with the highest usage numbers, or sending a reminder email each week — and see how your team responds.
🤗 Need more help?
Our Account Management Team is here to support you and is happy to help make your Babbel experience a success. Just reach out to your dedicated Account Manager!
5 tips for learning a new language in your company
There are a number of things you can do to support your employees on their language-learning journey, which won't only get them closer to their language-learning goals but will also serve as team-building opportunities. Inspired by other companies using Babbel, we put together five tips to motivate your employees:
Tip 1: Goal Setting
Spark your team's intrinsic motivation! Language learning shouldn't just be something that they have to do but rather something that they feel excited about doing. To make this happen, it's important to explain to your team why they are learning a new language and how it will contribute both to the company's success as well as to their own personal development.
Get them involved in the goal-setting process, and let every person set three specific goals they want to achieve with Babbel, e.g. make a sales call in German or have a meeting with a colleague in Spanish. These smart goals will set a focus and make their progress measurable.
📢  Have you heard?
In episode 16 of our podcast, we discover how to keep up motivation while learning a new language. Listen here:
Tip 2: The Daily 15 Mins
As with any sort of habit formation, your employees' commitment to language learning won't stick if it's not something they can sustain over time. They will be more successful in their language studies if they have a built-in period of time each day devoted to learning. Besides that, learning every day in short bursts is more effective than studying for hours on end.
So what can you do? Encourage your employees to block 15 minutes a day or a few times a week for language learning in their calendars. And if they all learn at the same time, nobody will forget and it will be more fun. Team bonding is guaranteed!
Tip 3: Language Lunches
Get your team talking! After completing the first Babbel courses, the best way to retain knowledge and become confident using it is to practice speaking with others. Dedicating time to doing exactly that is key. So why not organize a casual language lunch for your team to practice with each other?
In an international team, pair native speakers with learners to create the best learning experience. This will not only improve their language skills but also their collegial relationship.
If you don't have this option, we offer Babbel Live, a service where learners can take part in group video classes with professional teachers. A more goal-oriented solution for individual managers may be Babbel Intensive, where we combine online courses with 1:1 video lessons.
Tip 4: Babbel Chat
Create a chat, solely dedicated to Babbel! In this Babbel chat, your team can share videos about language learning, encourage each other, and, most importantly, only communicate in their new language. This way, employees are able to both practice their language and also feel a sense of camaraderie.
Tip 5: Competition & Rewards
Don't we all love a little competition? In your weekly Babbel usage report, you can see which team member has completed the most courses. Share this with your team and reward the winner! How about a free lunch? Or even a raise? This obviously depends on your budget, but recognizing your team members' efforts can go a long way.
Want to get started with corporate language learning?
Take your first steps to help you find the right learning strategy for your company by downloading our practical language-learning guide for free.