There often aren't enough opportunities to practice learning a new language in everyday professional life. How can you encourage the conversation? One great way to do so is by hosting language lunches.
Held during the lunch break, language lunches offer your employees the chance to chat informally in the language they're learning. They can also make new contacts, share their learning experiences, and motivate each other to keep going. The following suggestions for language lunches will help you combine business with pleasure.
Table of Contents
What Is a Language Lunch?
The basic idea of a language lunch is to bring employees who are learning a new language together during the lunch break. The main focus is having lunch together, making new contacts, and adding a bit of language learning – whether it's by actively speaking or practicing listening comprehension.
Neuroscience shows us that people learn more quickly and more easily when it's done freely and takes place in diverse contexts. Along those lines, language lunches are an entertaining way to boost the effectiveness and fun of learning a new language and build team spirit at your company at the same time.
The Benefits of Language Lunches
Language Practice: Language lunches provide a structured yet casual environment for participants to practice learning a new language. It allows individuals to apply their language skills in real-life conversations, helping them improve their fluency, vocabulary, pronunciation, and overall communication skills.
Cultural Exchange: Language lunches bring people from diverse backgrounds together, creating opportunities for cultural exchange. Participants can learn about different customs, traditions, perspectives, and experiences, fostering a deeper understanding and appreciation of other cultures.
Confidence Building: Engaging in conversations with native or proficient speakers during language lunches helps build confidence in speaking the target language. Participants can overcome shyness or fear of making mistakes by practicing in a supportive and non-judgmental environment, which boosts their self-assurance in using the language.
Networking and Social Connections: Language lunches provide a platform for individuals with shared language learning interests to connect and build social networks. Participants can make new friends, expand their social circles, and establish valuable connections with people from different professional backgrounds.
Cultural Sensitivity and Effective Communication Skills: Interacting with individuals from various cultural backgrounds enhances one's cultural sensitivity and intercultural communication skills. Language lunches promote understanding of different communication styles, gestures, and social norms, contributing to more effective cross-cultural interactions in both personal and professional contexts.
Exposure to Native Speakers: Language lunches often involve native speakers of the target language, which offers an invaluable opportunity to learn from their pronunciation, idiomatic expressions, and authentic language use. Exposure to native speakers helps improve listening skills and provides a model for correct language usage.
Motivation and Accountability: Participating in language lunches can serve as a motivational factor in learning a new language. The regular meetings and interactions with fellow learners create a sense of accountability and commitment to improving language skills. It keeps learners motivated and encourages them to stay on track with their language learning goals.
Fun and Enjoyment: Language lunches are not only about learning; they can also be enjoyable and fun. Sharing conversations, stories, jokes, and cultural aspects can create a positive and pleasant atmosphere, making language learning a more engaging and rewarding experience.
Overall, language lunches provide a supportive and interactive environment for language learners to practice and improve their language skills while connecting with people from diverse backgrounds.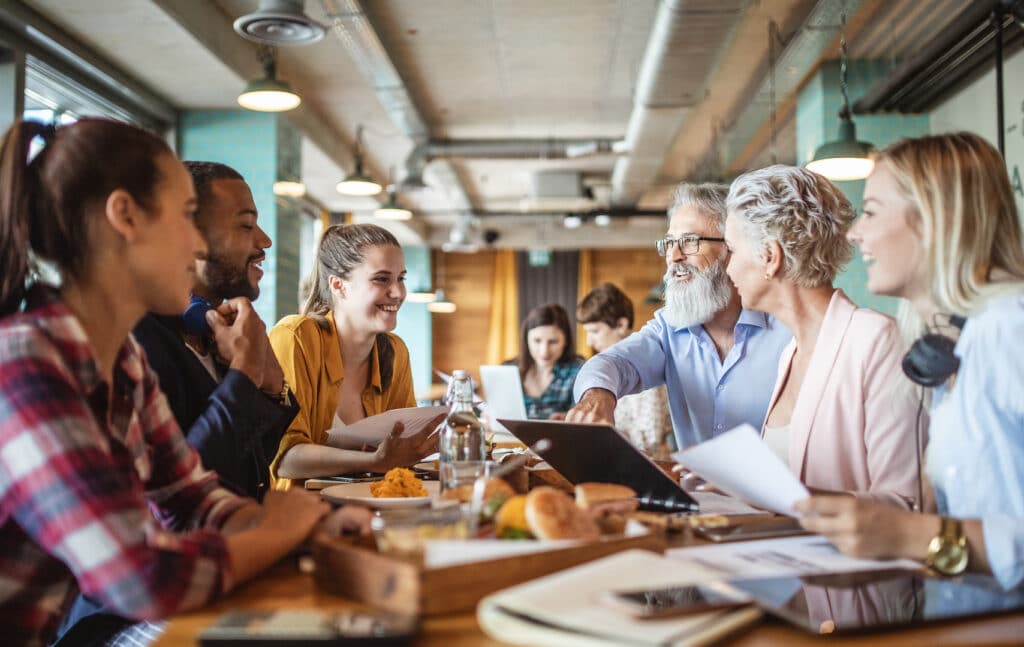 What Are the Optimal Sizes and Times for Language Lunches?
Depending on how you organize learning a new language at your company, one kind of language lunch might fit better than another. The optimal group has four to six people who meet regularly every week or every two weeks. The one-hour lunch break is the ideal time for it – or you can do it as a shorter 15-minute language coffee break.
After a few sessions, participating employees will see the advantages of the language lunch: an inviting atmosphere, natural conversation, practical language use, and animated social engagement. Your company will also see the advantages as language lunches will motivate your individual learners, enhance the learning process, and strengthen your company's team spirit in the long term.
How Can Language Lunches Be Organized?
What can you and your language-learning employees talk about at a language lunch? There are no limits to your creativity when coming up with topics, and spontaneous conversations are also welcome. While you may want to offer suggestions to get the ball rolling, established groups who have been meeting for some time will often start coming up with their own topics to discuss.
We've put together a few topics and possibilities to get you started on organizing a language lunch of your own:
With native speakers for support
At international companies with employees from different countries, it's easy to organize this kind of language lunch: One or two native speakers meet with those learning their language for lunch, where the conversation is held only in that language. For example, five employees who want to learn Spanish meet with two Spanish speakers once a week. The participants also agree ahead of time on whether the native speakers should correct mistakes or lead the conversation, posing questions to the learners, for instance, about their weekends.
Without native speakers
No native speakers of a language being learned at your company? In that case, everyone learning the same language meets together. The focus isn't on speaking without any mistakes, but on having fun conversing in the new language in a safe environment.
You can guide the topic of conversation with structured suggestions. Especially at the beginning, have a round of introductions and encourage people talk about their weekends. Learners with more advanced language skills can also talk about projects they're working on at the moment. Even those who are lower in level can benefit by sitting in on the discussion and training their listening comprehension skills.
With different learning languages
Are your employees learning different languages? In that case, you can structure a lunch with different tasks; for example, gathering figures of speech in their learning languages. By setting up this kind of exercise, your employees won't just get a feeling for the differences between languages but also for the different cultures behind them. Generating conversation about language and culture can lead to animated discussion and can create a learning community, helping learners stay engaged.
How do you create a sustainable language-learning culture?
In our eBook "4 Steps to a Sustainable Language Learning Culture," we use a company success story to illustrate how easily you can implement online language courses into everyday work. Download it now for free!