In this post, we share six steps you can take to promote diversity and inclusion in the workplace all year round. We've focused on the inclusion of LGBTQIA+ people, but each of these strategies can and should be extended to the inclusion of all underrepresented groups.
Each year, Pride Month comes around and our feeds are flooded with the iconic rainbow flag. Our favorite brands put on a visual display celebrating Pride Month and standing in solidarity with the LGBTQIA+ community.
But what happens when June comes to a close and the rainbow starts to fade? Sadly, for many companies, the end of Pride Month also marks the end of their outward commitment to diversity and inclusion.
If you're serious about building a diverse, inclusive, and equitable workplace culture, it's critical to extend your efforts well beyond the month of June and the annual display of a rainbow flag.
Would you like to create a more diverse work environment?

Download our free workbook "More Diversity and Inclusion in the Workplace" to help you better navigate this complex topic.
1. Review your company policies and employee benefits
The first step towards a truly inclusive company is to have fair and inclusive policies and practices in place.
Review your official company policies to ensure that they are inclusive of LGBTQIA+ people. Consider:
The types of paid family leave currently on offer, and who benefits. Revise your definition accordingly if it doesn't extend to everyone.
The language used throughout your policies and any related documents. Is it inclusive and gender-neutral?
A dedicated diversity and inclusion policy which clearly states your commitment as an organization to ensuring a diverse, inclusive, and equitable workplace. It's also important to clearly outline how the effectiveness of the policy will be monitored and assessed on an ongoing basis.
Policies regarding discrimination. Ensure you have a zero-tolerance anti-discrimination policy which explicitly protects LGBTQIA+ employees and outlines clear consequences and disciplinary actions that will be taken in the case of discrimination (and be sure to implement them).
Official company policies lay the foundation for company culture and must be inclusive throughout.
2. Establish and support LGBTQIA+ Employee Resource Groups (ERGs)
Gartner defines an employee resource group as "a voluntary, employee-led diversity and inclusion initiative that is formally supported by an organization."
ERGs (sometimes referred to as affinity groups) are usually formed based on shared identity, values, perspectives, interests, or goals. They can help to foster a sense of belonging, provide employees with opportunities to network, nurture personal and professional development, and generally build a sense of support and community.
One such group is Prism, the Los Alamos National Laboratory's LGBTQ+ employee resource group. As per their website, the group "provides and promotes LGBTQ+ visibility among staff and with management about current workplace and social issues that affect the LGBTQ+ community."
Through networking, educational events, outreach, and more, Prism strives to create a safe space for LGBTQ+ employees while maintaining diversity in thoughts and ideas across the Laboratory, with all staff (both LGBTQ+ and allies) welcome to join and support the ERG.
Consider similar ERGs for your organization to promote LGBTQIA+ inclusion year-round.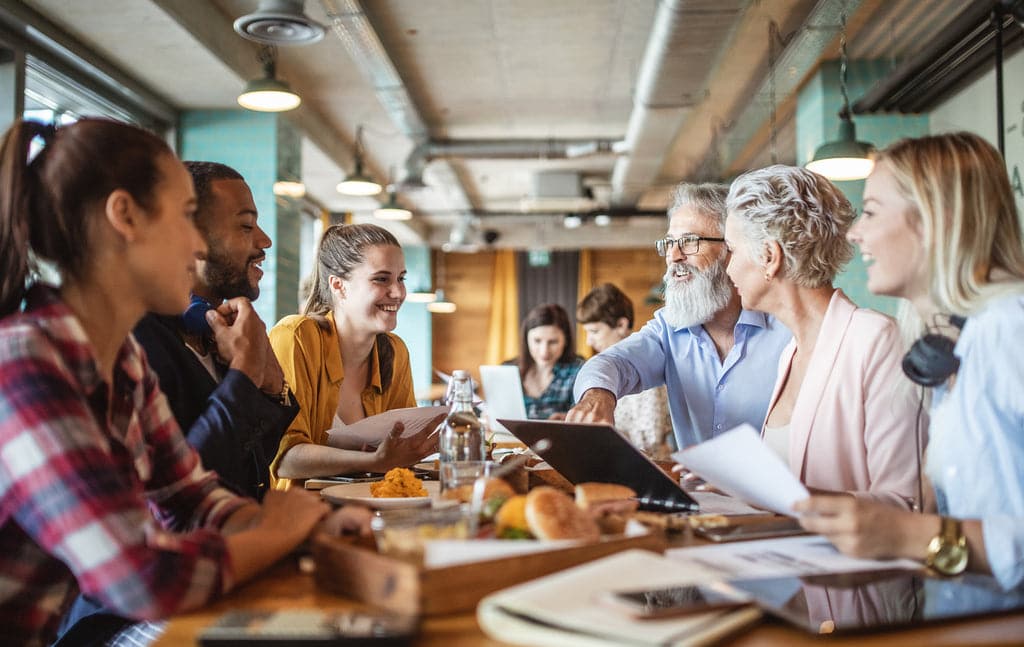 3. Review your hiring process
Just as you've done with your official company policies, review your hiring process to make sure that it's as inclusive as possible. This includes:
Ensuring that the language used in job ads is inclusive and gender-neutral.
Posting vacancies on LGBTQIA+ job boards (such as myGwork, Out and Equal, Jobboard.lgbt, and LGBTconnect.com).
Having diverse hiring and interviewing panels.
Using the same set of interview questions for all candidates.
From the moment you write and post a job ad, right through to the interviewing, hiring, and onboarding process, it's essential to ensure that you're providing an inclusive experience for every single candidate.
4. Foster an inclusive language culture
Creating an inclusive workplace requires respectful, inclusive communication. The words we use are powerful, so it's essential to make sure that our everyday language isn't harming or excluding anyone.
You can foster an inclusive language culture by:
Normalizing the use of pronouns, for example when introducing yourself, in your email signature, on your LinkedIn profile, and so on.
Avoiding gendered terms such as "guys," "spokesman," or "ladies and gentlemen" and using gender-neutral terms instead (like "folks," "spokesperson," "colleagues," etc.)
Providing inclusive language training.
Ensuring that all company documents use inclusive language, including surveys and HR tools which might require employees to state or select their gender.
5. Invest in diversity and inclusion training
Diversity and inclusion training can be an extremely powerful tool for educating people on this complex topic, equipping them with the skills to challenge their own assumptions and biases, and providing them with actionable ways to support their LGBTQIA+ colleagues and show up as allies every day.
Not only does structured, formal training help to drive meaningful mindset shifts and behavioral change, it also emphasizes the importance that the company places on diversity and inclusion. By investing in proper training, you're sending a clear message to your employees that you take diversity and inclusion seriously — and that they should, too.
To ensure that your diversity and inclusion training is effective, you'll want to tailor it to the unique needs of your company and make sure that it's an ongoing endeavor — not just a one-off token gesture. And, whether you're devising an internal training program or hiring a professional trainer, be sure to work with reputable, qualified diversity and inclusion experts.
6. Hire a dedicated diversity and inclusion officer
In your efforts to foster and build a more diverse, inclusive, and equitable workplace, make sure that the work doesn't fall on the shoulders of your LGBTQIA+ colleagues (or any other colleagues from underrepresented groups). At the same time, don't fall into the trap of making diversity and inclusion a mere side project.
It's a hugely important issue and, where possible, the ongoing mission of fostering diversity and inclusion should be led by a dedicated, paid expert. More and more companies are hiring in-house diversity and inclusion officers to focus solely on diversity and inclusion initiatives.
Looking beyond Pride Month
Those are just a handful of things you can do to commit to diversity and inclusion all year round. You don't need a specific date on the calendar to take action, be an ally, and support LGBTQIA+ and other underrepresented communities.
Fostering a truly inclusive workplace is a forever endeavor. Make sure that you're still doing the work, even after the Pride flags have been taken down. For further information and resources, head to Stonewall.org where you'll find toolkits, best practices, training, events, and more.
Start now!
Download our free workbook "More Diversity and Inclusion in the Workplace" to help you create a more diverse work environment.