In this post, we will show you our top 5 of digital holiday gifts for employees and what you should consider before choosing a gift for your team.
The holidays are an ideal time for gifts at the workplace. With the right present, a company can show employees appreciation for their contribution and loyalty.
In choosing a gift, it's recommended to keepup with the times: Digital gifts are becoming more and more popular. Keep reading to find out 5 of the best digital holiday gifts for your employees.
Why employee gifts are important
Many employees complain about a lack of recognition and appreciation at the workplace. A study of 1,500 employees by the incentive provider Sodexo showed that 57 percent see shortcomings in this area.
With a gift during the holidays, companies not only give their employees a treat but increase their motivation. In companies with a positive, harmonious working environment, gifts for employees are a longstanding tradition. They express recognition for employees' contribution and encourage good relationships between the management and their teams.
What to consider when choosing a gift
The choice of a corporate holiday gift is determined mostly by these factors:
The number of employees
The budget available for gifts
The company goals that gift-giving should help achieve
Tax-related questions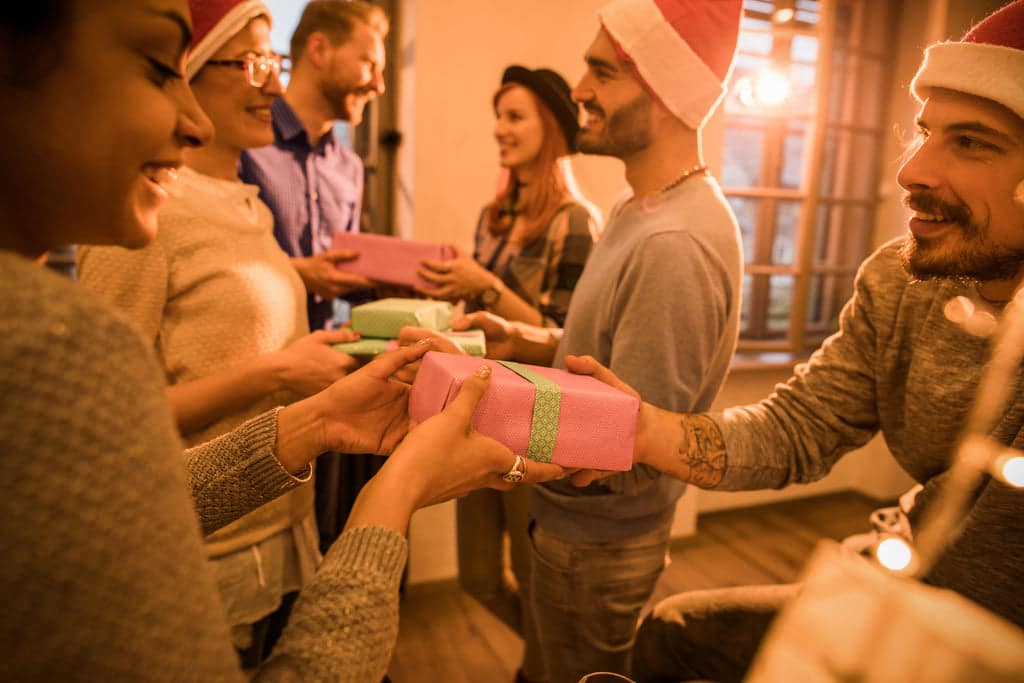 When are holiday gifts tax-free?
Expensive company gifts bring taxes for the company or for the person receiving the gift. In Germany, tax-free gifts are also a possibility. Gifts to business partners are tax-free up to 35 Euros each year. For gifts to employees, there are other rules:
For gifts related to a specific occasion — for example, a birthday or wedding — anything under 60 Euros is tax-free. Companies can claim these costs as business expenses and reduce their own tax burden. However, Christmas gifts aren't covered by these rules.
Non-cash benefits that aren't related to a specific occasion are tax-free as long as they stay under 44 Euros per employee and per month. This is how it's also possible to keep Christmas gifts for employees free from taxes.
Important: If the cost of the gift is even one cent above the legal limit for a tax-free gift, the entire value of the gift is taxed. Alternatively, companies can pay a flat-tax for gifts to business partners.
Best digital gifts for employees — the top 5
Of course, the gifts should also fit what employees would want. Some unpopular gifts are, for example, household goods, pens, cosmetics, wine, and chocolate. Digital gifts, however, are particularly popular among employees.
Digital presents are often equated with high-tech devices. However: If a company is able to give their employees a smartphone or tablet, there are automatically taxes to pay, which lessens the joy for one party or the other. With a little creativity, it's still possible to find exciting digital gifts to surprise your employees.
According to the Sodexo study that we mentioned above, 73 percent of the employees surveyed want a gift from the company that they can use as they like. That includes, for example, bonuses or days off, but also gift certificates for gasoline and perfume. This approach can also be applied to digital gifts, with gift certificates for exciting options in the digital world.
When it's about digital gifts, these five options are at the top of the wish list for employees:
Gift certificates for entertainment:
like Amazon Prime, Audible, Netflix, or Spotify.
Gift certificates for charity:
It can be a completely open donation or one with fixed options.
Gift certificates for fitness apps:
Examples of popular fitness apps are Freeletics, Runtastica, or Strava.
Gift certificates for a food box subscription:
Well-known providers are Hello Fresh, Marley Spoon, or mycouchbox. The first two offer fresh food and also delicious recipes for preparing it. There are also many regional food box providers with regional food.
E-learning gift certificates for individual development:
Many employees are interested in improving their language skills or learning a new language. With a gift certificate for the digital language learning platform Babbel, your company is well-placed to fulfill these wishes and as a side effect your company will benefit as well. Babbel for Business offers business packages for various sizes, so it's an easy gift for small, as well as large teams.
A thoughtfully chosen present for your employees pays off!
Thoughtful digital presents for your employees are well worth it. You should invest some time and thought into your search for the right gift. Ideally a well-chosen holiday gift enhances the impact of your employer branding, encourages lasting connections among employees, and is a general benefit to your company culture.
The best option is an individual choice that is tailored to your employees' wishes. Digital holiday gifts offer diverse possibilities to do just that. It's especially impactful when the recognition of employees expressed at Christmas continues throughout the year.