What does "learning" mean in your everyday work life? How about "continuing education"? With the new Playbook from Babbel for Business, you can activate these ideas for yourself. Explore your personal learning goals and discover your team's developmental potential. Take the next step on the journey to a lively learning culture in your business.
The changes to the working world in the "Corona Year" of 2020 were unrelenting. New obstacles and uncertainties emerged on an almost-constant basis, breaking us out of our comfort zones on a regular basis. No question about it — this was a year that offered plenty of learning. What new discoveries did you personally draw from your experiences in recent months? And how has this formative year altered the learning culture in your business?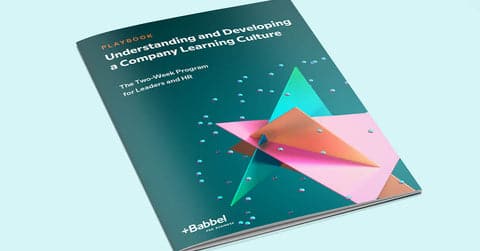 Is your business ready for new learning experiences?
The American psychologist Carol Dweck has coined the concepts of "fixed mindsets" and "growth mindsets" to describe our different relationships to the idea of learning. While a fixed mindset operates under the assumption that success rests upon innate talents and abilities, those with a growth mindset believe in the principle that all abilities can be acquired and developed.
This doesn't happen on its own, of course, but rather is the result of intensive work and the readiness to make mistakes and learn from them. Many businesses are committed to the cultivation of a growth mindset, in order to promote innovation and flexibility. An active culture of learning — and making mistakes — in the workplace goes hand in hand with your employees' growth mindset.
Dweck writes that strengthening the growth mindset in your entire company requires commitment and hard work that starts at the top, in the executive suits. But let's be realistic: In today's demanding workplace, there is less time than you would like for fundamental reflection on mistakes, systematic development of competencies, and interaction with new material.
Do you think you tend toward a growth mindset in your working life? Then you meet an important basic requirement to actively address personal development and important future issues. Of course, even the best attitude is of no use to you if it has no space to develop. Ask yourself honestly: How much attention do you truly give learning and development in your day-to-day? What is the general state of the learning culture in your company?
Discover and develop a learning culture in your business
So that concepts such as growth mindset, lifelong learning and personal development actually have meaning, a focus on learning must be firmly anchored not only in your business strategy, but in your day-to-day. Clarity about the goals and continuity in implementation are crucial, and the right attitude must also be followed by the right actions.
Nevertheless, executives, team leads and HR managers should not lapse into actionism when it comes to topics of learning and development, but rather develop a long-term perspective. Every sustainably effective initiative for professional development begins with an exacting observation of the status quo:
Where do we need to develop, so as not to be left behind by the competition?
In which areas should we intensify learning, in order to strengthen our cooperation?
What new topics can we master, in order to develop our full potential?
In order to advance an overarching learning culture, these and further questions about the concepts of learning and professional development should be discussed regularly, not just together with your team, but across teams as well. And this is exactly where our new Playbook comes in.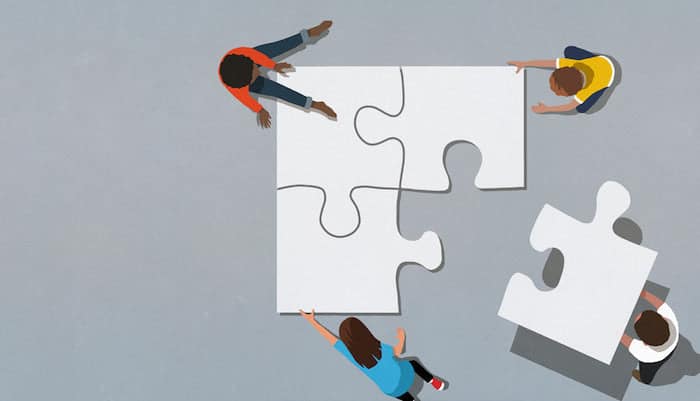 Move continuously toward a new learning consciousness
With our Playbook, we'd like to support you as you start to understand and develop the learning culture on your team and company-wide. It includes ten reflective exercises on the interplay between work and learning that are simple to integrate into the workday.
We suggest that you do one of these exercises every day over a period of two workweeks. This way, thinking about learning culture becomes an easy part of your routine and you can continue to sharpen your perspective on the topic. In the first week, your own learning experiences and goals are the focus; in the second, the emphasis turns to the developmental potential of your team.
By concentrating your attention on a different aspect of this theme every day, with time you will strengthen your awareness of your own learning needs and your company's learning culture. For this, you'll never need more than 15 minutes a day, so instead of having to block out a large chunk of time, or procrastinate your important learning goals, you can easily build this theme into your workday.
With its short reflective exercises, the Playbook can help support you and your Team with, among other things…
… describing the conditions you and your team need to learn
… defining new learning goals and planning out the next steps
… establishing roles and routines to integrate learning and professional development into your workday for the long-term
The Playbook is meant to be a reflection tool that you can work through alone or together with your team. All you need to start is a proactive approach to the topic, and just a little time.
A new educational start
If the Corona Year has taught companies anything, it's that sometimes outside circumstances make learning a necessity. However, we believe that it makes more sense (and causes more happiness!) to make learning a goal of one's own volition — whether it's for your team, or yourself. Start new topics and learning projects in 2022, and promote a vital learning culture in your business.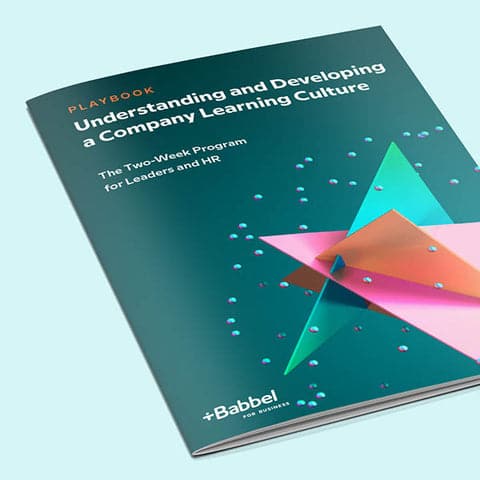 Such a learning culture arises when people with a growth mindset encounter an environment in which their desire for personal growth and further development falls on fertile ground. Promoting and shaping such an environment is a continuing challenge for executives and HR managers. We would like to support you in this process
with our free Playbook.