Corporate blended learning is a method of learning that combines classic in-person courses and workshops with independent digital learning. The goal is to develop learning scenarios where analog and digital components optimally complement each other. When these learning concepts are well structured, learners can reach their individual goals efficiently.
The Basics of Blended Learning
In its classic form, blended learning connects analog group learning with digital self-study. The proportion of in-person and online learning differs depending on the corporate blended learning approach. Often, online courses are introduced by an in-person meeting where the group can get to know each other and questions can be answered. Further in-person meetups help reinforce and practice what the group has learned.
Traditional and digital learning methods are combined in such a way that a complex and diverse learning environment is created that significantly increases the motivation to learn. Their main purpose is to give participants the opportunity to test their self-acquired knowledge through discussion with teachers and other learners or through practical exercises.
However, it's also possible to set up blended learning software. Even then, learners don't have to do without one-on-one communication with teachers or active interaction with other learners. Webinars, online lessons, or digital workshops help with knowledge transfer and group work. Special chatrooms can be set up for interacting with teachers or collaborating in small groups. Further topics for learning can be provided digitally for learner self-study and to prepare group activities.
The Advantages of Blended Learning
1. Flexible
One of the most important benefits of blended learning is the maximal flexibility it offers when it comes to when and where to learn. For example, learners can study at home or on their way to work by using mobile devices like smartphones or tablets. With the right training and blended learning software, companies can reach employees working from home in an uncomplicated way and many learning topics can be provided digitally.
2. Cost-Effective
Corporate blended learning makes it possible to offer employees learning content at a low cost. Travel and accommodation or setting up physical learning spaces isn't necessary. And digital learning can be combined with regular work routines so that the training causes little disruption.
3. Easy to Use
Modern digital learning platforms are intuitive and easy to use. Specialized technical knowledge isn't necessary to use them. Digital learning channels — videos, interactive apps, multimedia, and social media — align especially well with the preferences of younger employees.
4. Personalized
Another blended learning benefit is its customization and ability to be tailored to the requirements of your company and learning goals. For example, blended learning software can be customized to a personal learning speed, while tutorials start at the learner's current knowledge level.
5. Convenient
Blended learning reduces the fixed costs that are associated with traditional teaching methods, such as in-person classes or workshops. Also, due to the variety of learning media, it addresses different types of learners in an optimal way.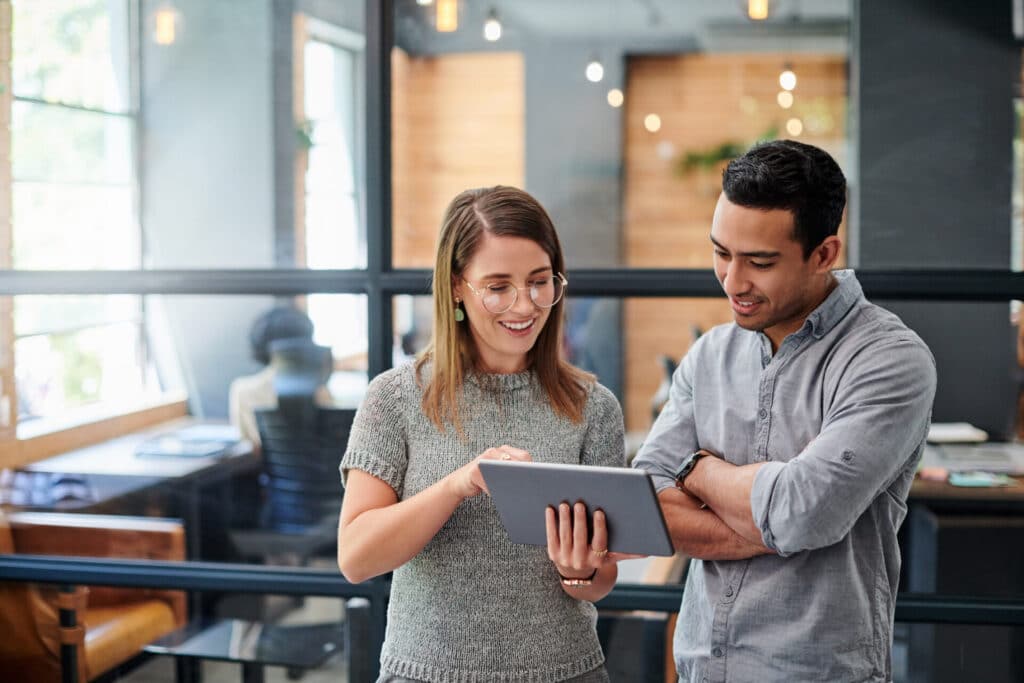 Blended Learning with Babbel
Blended learning enables the best methods from both the digital and analog worlds to be used for sustainable and individual training. It is ideally suited to expand the sustainability of a company's learning landscape.
This form of learning promotes skills that are indispensable in a multilingual workforce. Through this framework, for example, complex, interconnected, and digitally taught forms of learning and working are acquired, which also play an increasingly important role in collaboration in the workplace.
The Perfect Blend
Babbel's blended learning method has been designed and fine-tuned by our team of language learning experts. It's a combination of online individual study (via our platform) and 30-minute video lessons with certified teachers. We teach language through practical, real-life conversation skills and game-changing technology directly related to your business needs.
With our products, we offer various solutions for companies to take advantage of our online language courses:
With Babbel Professional your team has access to our language learning app as well as extensive onboarding, motivational materials, monthly user reports, an annual business review, and a designated account manager.
With Babbel Live, you'll have access to everything that comes with Babbel Professional, in addition to small group classes with certified teachers.
With Babbel Intensive you'll have access to all of the above as well as premium support for users plus individual sessions with a certified teacher to guide your learners along their learning journey like a classroom teacher would.
If you're interested in learning more about the benefits of blended learning for your company, contact our team.