With the rise of remote work, combining work and travel has become increasingly common. So much so that companies are now setting up official remote work policies and including workations in their corporate benefits packages.
But are workations actually beneficial to your employees, and what's the business impact?
What Is a Workation?
A workation is a combination of working and taking a vacation. Whether it's for a few days, weeks, or months, it involves logging on to work from somewhere other than home or the office.
At the height of the pandemic, remote work became a necessity for many employees. As the travel industry has opened back up, we're now seeing more and more people take the opportunity to combine work and travel. In a poll of over 1,000 workers in the United States, Passport Photo Online found that 94% of those surveyed plan to take a workation in 2022 and beyond. And, in a global study of workers in eight countries, 65% of respondents said they plan to combine work and travel in 2022.
The workation trend is here to stay — and companies are taking steps to formalize it as a corporate benefit. At the end of 2021, PwC announced that staff can now work remotely from abroad for up to eight weeks. Just recently, KPMG Canada launched its "KPMG Roam" remote work and travel program which also permits employees to work outside their home province for up to two months.
Those are just some of a fast-growing number of companies jumping on board the workation train. But are workations actually good for your employees and for business? Or do they take away from proper vacation time?
The Benefits of a Workation
At first glance, the concept of a workation might seem contradictory. Is it really wise to blur the lines between work and time off? Shouldn't you just encourage your employees to take proper vacation and switch off entirely?
While it's true that workations shouldn't replace full vacations, they do offer employees a chance to recharge and enjoy a change of scenery without eating into their annual vacation allowance. And, although workations are a relatively new trend, there is already a strong body of evidence to suggest that they have a positive impact on employee well-being and performance.
A workation can help combat burnout
In the One Passport Photo survey we referenced earlier, as many as 83% of respondents agreed or strongly agreed that taking a workation helped them to cope with burnout. The same study found that the top reason people gave for taking a workation was to "recharge their mental and emotional batteries."
Workations boost productivity and creativity
A change of scenery can work wonders for getting a fresh perspective, reducing distractions, and finding new sources of inspiration. 86% of workers agreed that a workation helped to boost their productivity, while 81% claim to have been more creative as a result of their time away.
Workations can increase job satisfaction and staff retention
Flexibility is one of the most sought-after workplace benefits (93% of knowledge workers want flexibility in when and how they work), and workations are one way to meet that need.
Employers who allow workations benefit from happier employees who are more likely to stay for the long term. Nearly 69% of workers said they are less likely to quit their job after taking a workation, while around 84% claim to be more satisfied with their job as a result.
5 Steps to Introduce Workations as a Corporate Benefit
1) Devise an official workation policy
Like any other corporate benefit, workations require an official written policy. This should include:
A clear definition of what a workation is and how it should be understood across the company
The maximum number of workation days employees are allowed to take in one go (as well as the annual limit, if there's a difference between the two)
A list of the countries your employees are permitted to work from
A formal process for requesting and approving workations
2) Clearly communicate your expectations
In addition to sharing an official workation policy, it's essential to communicate exactly what's expected of your employees when they work and travel.
Are they required to put in the same number of hours and attend all their usual meetings? Do they need to be online at all times, or can they benefit from extra focus time? How will you navigate different time zones?
You might add these to your policy, or consider creating a separate workation playbook with FAQs. Either way, the more clarity you can offer, the easier it will be for employees to make the most of their workation.
3) Get informed about remote work visas, taxes, and insurance (and any other legalities)
Depending on where your company is based and the workation destination, there may be specific visa and insurance requirements, as well as implications for taxes. Make sure you're informed about the legalities and formalities of allowing your employees to go on workation, and have all the necessary boxes checked before you finalize and announce your workation policy.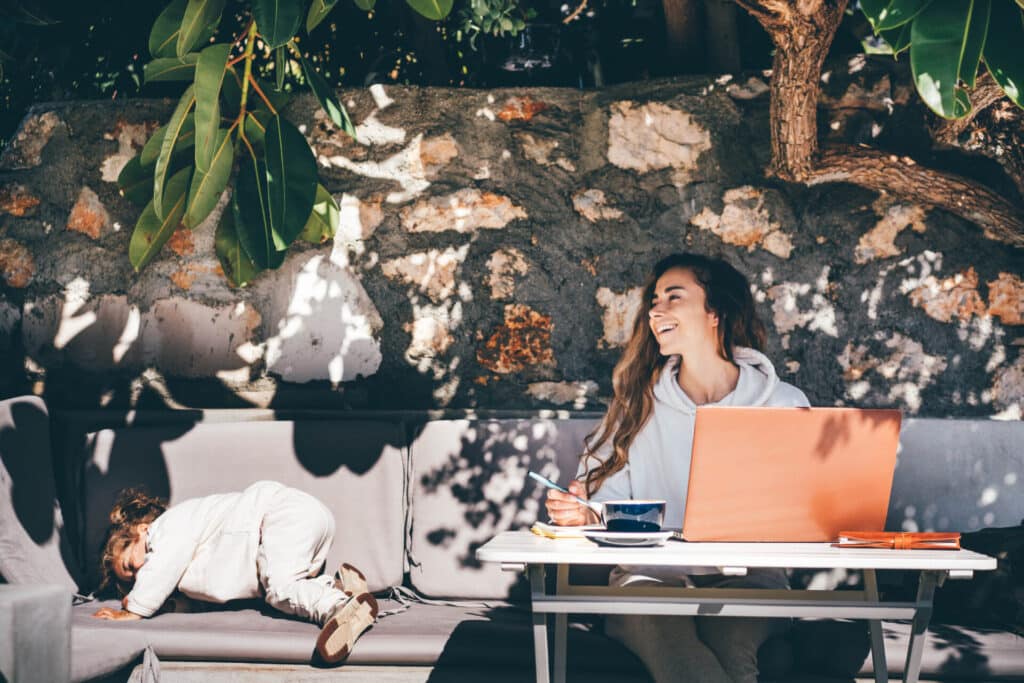 4) Set employees up with the right tools and technology
When taking workation, your employees need to be set up for success. Before they go, make sure they've got all the necessary tools and technology they'll need to continue working to their usual standard.
In addition to the basics (laptop, communication tools, and any necessary software), consider any extras that can help to make the workation experience as smooth as possible. This might include things like portable Wi-Fi extenders, adjustable laptop stands, portable power banks, and travel adapters.
5) Actively encourage your employees to go on workation
We've seen just how beneficial a workation can be for both workers and companies alike — usually resulting in increased productivity and creativity, higher employee engagement, and a boost in overall well-being.
If you can, take additional steps to incentivize employees to use their workation allowance. Consider supplementary perks like travel vouchers and discounts, and make it clear that you're there to lend support with the planning and booking process if needed.
Workations are fast becoming part of the new normal, and companies will need to get on board in order to keep up. Those who offer their employees the chance to combine work and travel as a corporate benefit will not only attract and retain the best talent — they'll notice that they're happier and more productive, too.