Back to school?! Employees often attend training courses within their own company — usually because they have to, not because they want to. The HR department sets deadlines for them to learn how they can work even more efficiently. Aleksandra Polyudova is an HR Manager for Learning and Development (L&D) at Babbel. In her opinion, employees should be able to determine their personal training independently. Here's a conversation about self-determined employee development and a new understanding of HR.
Babbel for Business (BfB): Aleks, in your LinkedIn profile you write about your ambition to rethink the role of HR and employee development. What was your original understanding of HR?

Aleks Polyudova: My idea of L&D was that I would go into a company and book various training courses for employees. So, a purely administrative job. But by gaining my own experience and designing training approaches with the employees themselves, I eventually understood that this is not the case.
BfB: And how did these insights expand your view of HR?

Aleks: It's simply about more than just administration. To ensure that HR is generally taken seriously, we should respond to needs and problems proactively, reliably and, most importantly, we need to work together with the team. It was only at Babbel that I learned that as part of L&D we can genuinely promote and influence the corporate culture. If we approach this at the same level as our employees and not as dictators, our work will be enriching on both sides.
BfB: At the same level as the employees: What do you mean by that?

Aleks: In principle, I believe that what we offer in our Babbel Academy inspires employees to take their development into their own hands. They can take courses to improve their soft skills. This may involve teamwork or personal development, for example.
I remember one example of employee empowerment very well because it was addressed directly to us. Nina, my colleague, asked Markus Witte (CEO) how much time employees would have for attending her training sessions. His answer was: "I don't know, it's up to the employees themselves." This is a shift in attitude that requires a great deal of trust and a relationship where everyone is at the same level.
BfB: What does trust actually mean in your way of working?

Aleks: The scenario I described above with Markus also applies to us. Trusting sounds easier than it is because it means shifting how you think at all levels. We trust our employees to take their development into their own hands. This means, for example, that they decide for themselves which training sessions they want to attend and when. After all, I don't think we in HR know better than the employees themselves what and when they want to learn. And this is the second point: We do what we can to get employees motivated to participate in trainings.
BfB: Speaking of motivation: How do you motivate people?

Aleks: For example, at Babbel we try to convey only relevant content in our training sessions. We call this concept "Cut the bullshit." Through experience and feedback from the participants, we recognize what is really relevant. Time also plays an important role, and this is where we differ from other companies: Our courses last only three hours and not three days.
BfB: If you've motivated your employees to attend one of your trainings, how do you teach the training?

Aleks: I believe the idea that we "teach" is a fundamental misconception. But I first had to learn that myself. I see my task as encouraging course participants to think for themselves. That's why I only give some input and let them draw their own personal conclusions. And we also provide training for managers. If I were to explain to them what they had to do, I can almost be sure that they would kick me out of my own workspace. It's hard not to be instructive but still let people learn.
BfB: You've addressed the difficulty of the relationships between managers and employees: Do you see opportunities in training to lead to better interaction in this sometimes tense relationship?
Aleks: 'Manage your Manager' is a training we offer along those lines, but only since this year. It's basically about how you manage your supervisor. However, since the title is quite provocative, there were already mixed reactions when the program was introduced — both among managers and employees. We just wanted to show that communication with managers is very important. After all, managers cannot and do not always know everything. In addition, we often forget that managers also want to be good managers and are happy to accept feedback. Therefore, employees also have to be able to communicate their expectations so that they can be understood by managers. In my opinion, the idea of employees putting themselves in the shoes of management and developing the initiative for a relationship at the same level is new for many companies.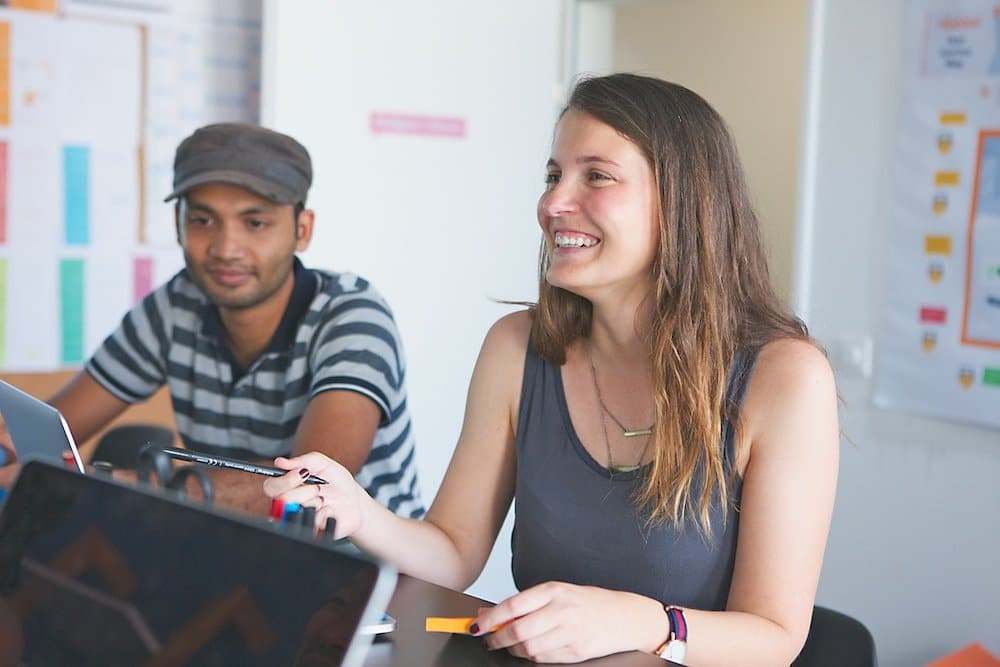 BfB: Speaking of communication: How do you communicate that employees should definitely attend a training course?

Aleks: This is often a major debate in employee development. Some members of the personnel team think that they have to close their employees' knowledge gaps in order to make them as close to perfect as possible. This annoys me because the logical consequence is that an HR manager assumes that the employees are not qualified enough. I find it critical to challenge that idea. That's why we never say someone needs training. Everyone is able to decide for themselves what, when, and how they learn.
BfB: And what if a manager asks you to organize a training for one of their team members?

Aleks: If a manager asks you to organize a training for one of their team members, then it is important to ask where this need comes from. Sometimes I also say no because such requests are often unclear. For example, a manager asks for a time management course for person X, who is always missing deadlines. Of course, we could organize a suitable course — but will that solve the problem? Isn't it quite possible that the person has personal issues, lacks motivation or is simply under- or overstrained? The guiding idea should always be "own your development" in order to choose the most suitable solution together with the employees. We're not at school anymore.
BfB: If the development of employees is in their own hands, shouldn't they be able to do without HR altogether?

Aleks: I actually see it as the role of HR to eliminate itself to a certain extent. This is done by empowering employees as much as possible. I know this concept already works at many other companies. This does not mean that HR will no longer be part of the company, but the tasks will be different. For example, HR could play an active role at the corporate level through change management, as HR has a strategic overview of the company.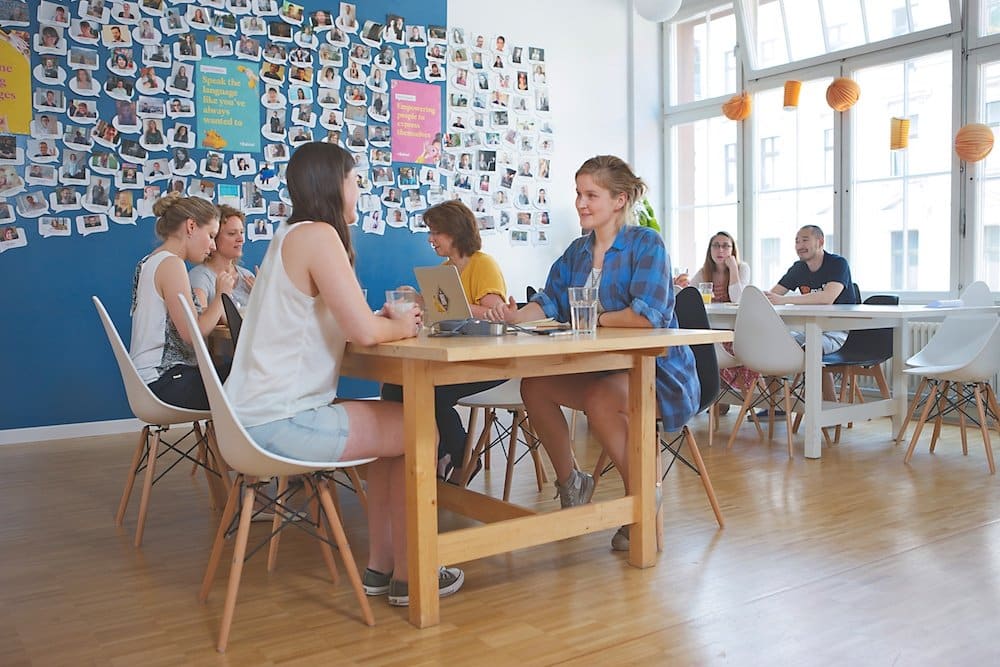 Speaking of the future, in terms of technical developments, one thing, in particular, has recently been discussed: artificial intelligence (AI). This is the ability of machines to learn independently. What role do you think AI could play in HR?
First of all, I would like to see more digitalization and automation. Many companies themselves have not yet implemented this in all areas. To your question: In the L&D area, I dream of a tool that lets employees register for a training independently, which in turn sends out invitations automatically and records all participants in our personnel management system with one click.
BfB: Many employees are afraid of the words AI and automation. Can employees prepare themselves through training?

Aleks: I see many advantages in this development. Robots will certainly take on routine tasks, but these are tasks no employee wants to do either. I believe that if we can automate the things that are still routine at the moment, we will have more time for more important tasks. In order not to be replaced by automation, it's important for employees to continue their training. But when employees keep doing only routine work, it's clear that they can eventually be replaced.
BfB: How do you see Babbel in three years?

Aleks: Difficult to say, because I've only been here three years and a lot has changed. However, I'm sure that Babbel will grow as a company. Even so, the personal, relaxed atmosphere will remain. Markus Witte will greet the new employees at the Welcome Day and will answer similar questions each time. I don't know any CEO who invests so much time to ensure that employees get to know the company culture right from the start. This is of great value to Babbel.
Interested in learning more? Download our free e-book on setting up a sustainable language learning culture here.